Russian Document Translation Services
If you have a personal document issued in a foreign country and you are going to submit it in the United States or vice versa, you need a professional translation company like ours.
We provide online document translation services and specialize in Slavic languages like Russian, Ukrainian, Belarusian, etc.
We have many years of experience and extensive database of carefully drafted templates and flawless terminology in legal, medical, academic and other areas of expertise.
We are a Corporate Member of American Translators Association. Our translations are accepted by government authorities, such as USCIS, Social Security Administration, US Department of State, foreign consular offices in the U.S., as well as courts, banks, hospitals, DMVs, schools, colleges, universities, evaluation agencies, etc. Since 2006, none of our translations have been rejected.
We deliver translations in electronic and paper form. Primarily, each translation is made in PDF format and includes the Certificate of Translation that meets the requirements of the USCIS in particular. Hard copy of translation is printed out and includes a notarized Affidavit of Translation Accuracy, which meets the maximum legal requirements.
We offer expedited same/next day translation and send paper copies of translations by 2-Day USPS Priority Mail with tracking available.
We also provide a possibility for online verification of our translations.
Our website for more than decade is still the only translation web store in the industry. You can easily locate a document to be translated, upload the source file, select options, add the product to the Shopping Cart and make online payment using bank card or PayPal account. No back-and-forth emails, no arbitrary prices, no hidden fees. Just the lowest prices for the best translations! 
Easy as 1-2-3
| | | |
| --- | --- | --- |
| 1 | 2 | 3 |
| Upload scanned image or take a photo of a document on your mobile device | Make a payment on our secure website, we accept debit/credit cards and PayPal | Download PDF file with translation in your account ready for submission to USCIS / University / any US agency |
Vital Records that we translate most often
Typical educational documents
Other popular documents
In addition to the translation of personal documents, we also deal with the translation of corporate documents: charters, contracts, tax documents, licenses, certificates of quality, software documentation.
We have focused on several languages: Russian, Ukrainian, Belarusian, Lithuanian, Latvian, Estonian and Polish. Our translation team works with these languages and we can guarantee the quality of these translations.
Can't find your document?

Key features
What our clients say...
CERTIFIED RUSSIAN TRANSLATION SYNOPSIS
According to the U.S. government requirements, English translation of a foreign language document (Russian or Ukrainian) must be accompanied by a legible photocopy of the original and a certification from the Language Service Provider (LSP) confirming the accuracy of translation and attesting the competence in both languages.
A summary or an extract of a document prepared by a translator is not acceptable.
Apostille validates a foreign document in the United States. It can be applied to a public record by designated officials in the originating country. Though some authorities in the U.S., e.g. USCIS, do not require it, it is recommended to get your document apostilled prior to bringing it into the United States. Be aware, that Apostille is applied to the original document, not its translation. Get your document apostilled in the originating country and translated in the United States.
English writing of the names must be consistent in all the paperwork.
Samples of Certified Russian and Ukrainian Translation
OUR TRANSLATION SERVICE GUIDANCE
No original Is required for translation.
A photocopy is sufficient. Scan the document and upload the image file as a product option, or take a photo of the source document, if you place an order on a mobile device.
Some government agencies and public offices, e.g. USCIS, accept photocopies of translations.
Download Pdf-file with completed translation and Certificate of Translation using the link provided in the order details section of your account, print it out, staple and submit to the required authority.
If full legal responsibility of the certifier is requested by a receiving office, a notarized copy of translation is required.
Such paper (hard) copy of translation with Affidavit of Translation Accuracy affirmed before the Notary is delivered by mail, if ordered.
Document must be translated in full.
Apostille is supposed to be translated, if present. Check this option, if your document is apostilled.
It is important to understand, that the names are not translated, but transliterated according to certain rules/standards established by responsible public authorities of foreign countries.
The rule of a thumb is to use the names shown in a travel passport and application for a visa. You can enter the required transliteration of the names in the corresponding option field.
Frequently Asked Questions about our Certified Russian Translation Services
What is a certified Russian translation?

A certified Russian translation is a written translation made by a translator familiar with the Russian and English languages. Certificate of Translation is attached to the certified translation. Certificate of Translation is a statement that the translation is correct and accurate, signed by translator, indicating the name of the translator, its address, phone and the date of translation.
Here is a quote from the Code of Federal Regulations:   8 CFR 103.2 (b)(3) (3)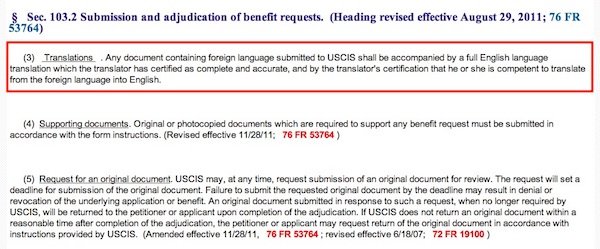 What is a notarized translation?

Notarized translation is a written translation executed by a translator whose authenticity is certified in the presence of a notary. Our translations are certified by the Civil Law Notaries of New York State, USA. Please note that translations certified by U.S. notaries are only valid in the United States, as well as in US consulates in other states, and at US military bases based in other countries.


Do I need notarized copy of translation?

It depends on requirements of the receiving office. If you have a short deadline or limited budget, and notary is not specifically required, pdf-file with certified copy of translation can be your choice as the quickest and cheapest alternative.


Does U.S. Citizenship and Immigration Service require notarized copies of translations?

No. USCIS requirements are as follows: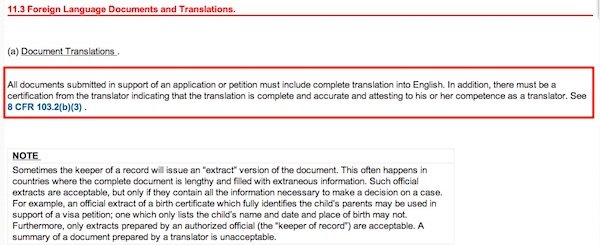 Signed Certificate of Translation meets the above requirements and is included with all translation orders.
Another USCIS requirement is the complete translation of the document. All seals and stamps must be translated, even if completely meaningless, and entered in the birth certificate for entirely ridiculous reasons. Examples of such strange, redundant and superfluous information: a stamp of address registration (present in all birth certificates issued in Moscow), a stamp of the blood group, a stamp of the privatization of housing with a detailed description of the number of square meters and the quota of a particular area for the privatization of these meters, a stamp of the opening deposit in a savings bank and other vestiges of the Soviet era. Whatever it was, it's all part of the document to be translated.
What do I receive, if I don't opt to order notarized copy of translation?

You receive pdf-file with certified copy of translation, regardless of whether notarized copy of translation have been ordered or not. Translation is appeared on the company professional letterhead, and includes a copy of original and signed Certification of Translation. Furthermore, the translation can be verified online by a receiving official. Instructions are provided. Notarized copy of the translation can be ordered lately, if necessary.


Will your translation be accepted by USCIS?

Yes, we have been in business since 2006 and our certified translations are recognized in the USCIS


Why do I need a professional translation?

As with any paperwork, you want the translation to be accepted by the receiving authority without any problems or questions. If a translation does not meet the requirements, or if it is perceived as not credible and look not professional, your application may be denied or rejected, or additional complementary documents (extra affidavits, proofs of credentials, etc.) may be requested. If you have a short deadline, cheap translation may cost you dearly.


What do I need to order a translation?

You need to scan or take a photo of a document and to provide a transliteration of your name(s).
What is transliteration?

This is writing your name in the Latin alphabet (as it written in a Passport, Green Card or another official document).
What languages do you translate?

We specialize in three Slavic languages - Russian, Ukrainian and Belarusian. Unlike translation agencies working with hundred languages, we have consciously reduced the number of languages, focusing on the quality of translation.


What is your turnaround time?

Our regular time processing is 3-5 business days. We also provide 24-hour expedited processing. Please select the proper option while ordering.


Do you provide Evaluation Services for Russian Diplomas?

No, we provide translation services only. List of reputable evaluation agency you can find at NACES website. Any of this agency will accept our translation 100%. Proved by years of work!


Will the formatting of the document be the same as original?

Yes, you'll receive word-for-word, line-by-line translation with the same format as original.


How do I request a revision of my translation?

Please email us your corrections, we'll be happy to make your reasonable revisions.


What will I receive?
What types of document you translate?

We have fixed price for the most popular documents originated from Soviet Union, Russia, Ukraine, Belarus: Birth Certificate, Marriage Certificate, Divorce Certificate, Vaccination Report, Passport, Diploma, Transcript. You can choose it in our library and order promptly. If you can't find your document in our catalog, please request a quote.


Who will translate the document?

We are the team of professional translators dealing with Russian/Ukrainian documents for over 10 years.


Do you have office in my city?

We are Internet-based company and provide certified russian translation services all over the country (New York, including five boroughs Staten Island, Manhattan, Bronx, Queens, Brooklyn, Sacramento, Los Angeles, Dallas, San Diego, Austin, San Jose, San Francisco, Houston, San Antonio,   Miami, Washington DC, Miami Beach, Seattle, Jacksonville, Denver, Detroit, Chicago, Cleveland, Atlanta, Minneapolis, Boston, Philadelphia, Las Vega)